News
A very special trip idea in Saxony is the Butterfly House in Jonsdorf. It is one of the most beautiful and popular destinations in Saxony .
17.01.2022 –
Open again under 2G+
Starting Friday, January 21, 2022, our facility will resume normal hours of 10am-6pm. The 2G+ regulation must be observed. Rapid tests can also be carried out on our premises under supervision, but are then only valid for our facility. Masks are compulsory throughout the house.
21.11.2021 – Current resolutions for Saxony from 22.11.2021
From tomorrow,
22 November 2021
, all indoor cultural and leisure facilities will unfortunately have to remain closed again!
We will let you know about it here and on
Facebook
when we reopen!

07.11.2021 – Current corona rules
From tomorrow, November 8th, 2021, the so-called 2 G regulation will apply in Saxony! A visit to our facility and indoor catering is only possible with contact recording and after presentation of proof of vaccination or recovery. Masks are compulsory in the entire house!
04.10.2021 – Current corona rules
Since the incidence of 35 in our district was unfortunately exceeded yesterday on five consecutive days, the 3G regulation will also apply to us from tomorrow, October 5, 2021!
A visit to our facility or indoor catering is only possible with contact recording and upon presentation of a vaccination, convalescent or negative test certificate.
We open again on 14.06.2021
With a big grin on your face, like this leopard gecko, we can now inform you that we have reopened from 14.06.2021! We are very happy about your visit then at the usual opening hours daily 10-18 o'clock. 
The general hygiene rules apply throughout the house, such as wearing a medical mouth-nose covering, keeping a distance of 1.5 meters, avoiding crowds and regularly disinfecting hands. There is no test obligation.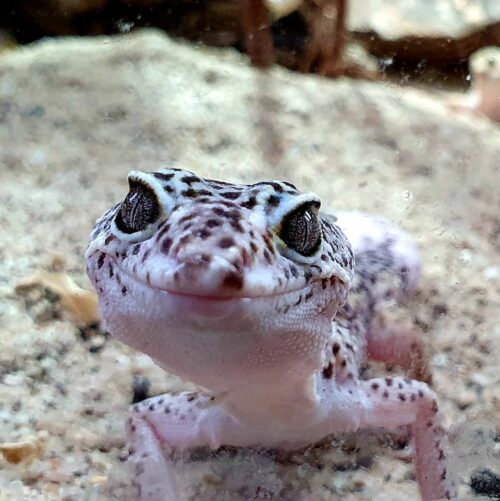 28.05.2021 – Corona Note
Unfortunately, we are still not allowed to open. According to the latest state of the art, we may not reopen until the incidence value in the district of Görlitz is below 50 for 5 consecutive days (+2).
We will inform here and on our Facebook page when and under what conditions we may reopen.
26.04.2021 – Corona Note
According to the current decision, our facility must remain closed if the 7-day incidence is above the 100 mark for three consecutive days in the county. We will inform here and on our Facebook page when and under what conditions we may reopen.
08.03.2021 – Corona Note
​We are still closed. According to the opening plan decided by the government, zoos will soon be allowed to open again with an appointment. In the next few days we will think about how we can implement this. We will inform you here and on our Facebook page when and what solution we have come up with.
11.02.2021 – Corona
… we wish and hope to see you again on March 7, 2021. Further information follows.
10.01.2021 – Corona
… we wish and hope to see you again on February 15, 2021. Further information follows.
31.12.2020 – Happy New Year…
… we wish and hope to see you again on January 11, 2021. Further information follows.
01.12.2020
Due to the new regulations on the corona pandemic, we are still closed until January 10, 2021.
We wish you a nice Christmas season and, above all, good health!
30.10.2020
Due to the new regulations on the corona pandemic, we unfortunately have to close again from Monday, November 02, 2020.
We hope to see you again in December. Stay healthy!
01.02.2019 –

15 years butterfly house Jonsdorf
On 07.02.2019 the butterfly house will be 15 years old and on this occasion we want to celebrate with you on Sunday 10.02.2019. We have planned some attractions for our guests.
anniversary cake
We will have a butterfly cake made for the occasion, from which our guests may taste. Each guest gets a piece of free on presentation of the ticket. Only while supplies last!

guides
10.30 clock, 14 clock and 15 clock is an employee for about half an hour in the hall and answer your questions. In addition you will be shown eggs, caterpillars and dolls and will tell interesting facts about our butterflies.
animal feedings
Between 10:30 – 17 clock animal feedings take place with our zoo keeper. For more details, please refer to the notice board in the butterfly house on this day.

children program
Our little guests can make up for free from 2 to 5 pm. On the other hand, each child receives a make-up stamp upon entry, which must then be handed over to the women of vbff (promoting the compatibility of work and family life in Ostsachsen e.V.).
There will also be a craft street (11-17 clock) and a raffle. At the tombola, each child (against presentation of the ticket) may turn once and try his luck.
So we have a lot to do and look forward to your visit!
27.08.2018 –

The million was cracked
The couple Fiedel from Schlegel visit our house several times a year, as well as today with their great-grandchildren Wilhelmine and Albert. But this time the joy was especially great. Congratulations to the 1.000.000 visitors!
01.08.2018 – Our August-Special
For over 14 years, there is already the butterfly house in Jonsdorf and we look forward to welcoming our 1,000,000 visitors soon! We can not say exactly when this will be, but it will be sometime in August. Let yourself be surprised and maybe you are the one!?! To celebrate the day, this visitor and his companions will receive free entry and personal guidance from the manager, as well as a voucher worth 60 Eur for our cafeteria / souvenir corner. We are curious who will crack the million with us!
25.7.2018 – A
pe babies
This morning we had a happy surprise for our keepers. Our monkeys got offspring again. The first snapshot of the two little ones is already well done.
06.06.2018 – Our offspring in may

Physignathus cocincinus

Phelsuma standingi
10.02.2018 – Turtles have moved

Just in time for the beginning of the holiday, our two turtles have moved into their new and larger enclosure. The two feel very well there and curiously explore their new empire.
Since the fencing is not very high, we ask our visitors to stay on the trails and not to enter the enclosure, as well as the animals only to watch and not to pet! Our turtles are fed appropriately and balanced, so we ask that you do not feed the animals and also bring any food or other things brought into the enclosure!
06.02.2018 – 14 years butterfly house Jonsdorf
Tomorrow, on 7.2.2018, we are already celebrating our 14th anniversary! We would like to thank all our guests, who visited our butterfly house in the last years and are looking forward to many more visitors! Our personal highlight this year will be that we welcome our millionth visitor. There will be another species in the air hall soon. Our red-turtles, who currently inhabit a third-floor terrarium, will move into an open enclosure in the Butterfly Flight Hall. This is still under construction and will be ready soon. At the moment we are still working on a shelter. We will report as soon as the turtles have moved.
We are looking forward to your visit!
23.01.2018 – Winter rest finished
Our corn snakes keep hibernation every year and we used this time to redesign the terrarium.
Now the snakes were allowed to move in again and are visibly comfortable.
15.12.2017

Opening hours for Christmas / New Year
Also this year we will be on 24.12. from 10am to 2pm.
On 31.12.2017 we are open from 10am to 4pm, and on the 1st of January 2018 again from 10am to 6pm.
The Butterfly House team wishes you a Merry Christmas and a Happy New Year!
21.06.2017 caterpillars of the Atlas Silk Moth….
… at the moment you can see how they eat one leaf at a time in the foyer.
24.03.2017 – New bearded dragons have arrived
Two other female bearded dragonfemale have now been joined by two other species. She gets along great with the new male and female. See for yourself!
Opening Hours
We are open daily from
10:00 clock to 18.00 clock
all year round.
also on Sundays and public holidays.
Phone
Call us at:
0049 35844 76420
During the opening times listed above we are always available!